1. It was a dark and stormy night, Halloween night to be precise. It is the night of ghouls and deamons, spooks, and scary noises that go bump in the night. I cast my gaze out the window eagerly awaiting my cousin Annabel. Tonight we were going to settle in with some spooky movies and popcorn. A slight movement caused me to shift my gaze to the left. I stopped breathing when I saw two bright green eyes staring at me.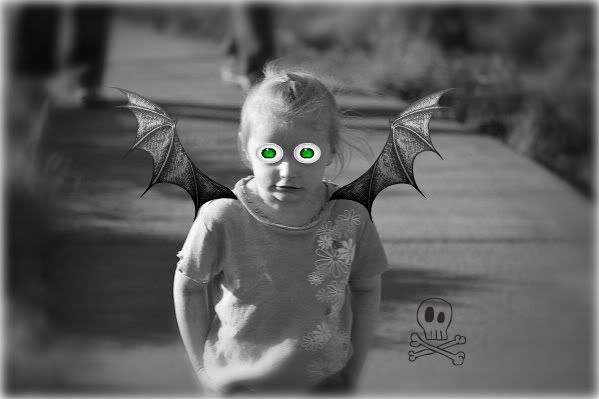 2.
Visions of monsters formed in my brain. The green eyes started coming closer as I threw the curtains closed. My heart pounded in my chest as the doorbell rang. Since when do monsters ring door bells??
"Come on let me in! I'm getting soaked out here!" Annabel's voice shouted through the door. My cousin! I sighed with relief as I unlocked the door and let her in. We had a good laugh when I told her I thought she was a monster. "So are you ready for a scare fest or are you too scared already?" She smirked as she headed to the DVD player. Ha, ha
, I thought

.
Halfway through the first movie Annabel sat straight up and covered her mouth with her hand. "I totally forgot to bring Michael his books! He said he had to have them for a report
due Monday!" Michael lived only two doors down and Annabel was still trying to dry out
so I offered to take the books myself.
3. Rushing out,
I tucked the books under my raincoat so they wouldn't get completely soaked by the relentless rain.

4.
I was almost to Michaels house when I slid to a stop on the slippery sidewalk. I stammered
to
myself,"...
I think I heard a howl!"
I turned around and saw the bush I just passed shaking unnaturally. Luckily for me Micheal saw me coming and motioned for me to come inside. I didn't hesitate as I raced into his house and headed immediately to the window. I pressed my face against the glass waiting for a werewolf to pop out any second.
5. "Shhhh..."
I whispered to Michael. "There's something outside your house." I then turned to look at Michael and instantly my fear was calmed for a moment as I saw his ridiculous disguise.

6.
"What, you don't like my mask?" He gasped in pretended offense as he wiggled his eyebrows up and down. I just shook my head and smiled until a light knock sounded on his door. All silliness was whisked away as I remembered what could be right outside the door. Michael ran to the door and threw it open before I could stop him.
"No!!" I shouted. All I saw was teeth and fur as I slammed the door with all my might and turned the lock. "What in the world are you doing?" Michael questioned, looking at me dumbfounded. I just opened my mouth to answer him
when I heard a childs muffled voice
yelling
, "Hey! Trick or treat
and give me something good to eat!"
I just groaned as I sheepishly opened the door to reveal a child in a werewolf mask. Michael gave the boy a handful of candy as I sputtered out an apology.
"Oops, guess my imagination got the best of me," I shrugged. Michael just laughed as I handed him the books and quickly stepped back out into the pouring rain. "I have got to stop scaring myself just because it's Halloween."
I whispered to myself as I made my way home. "That's the last time I get spooked tonight." One pair of shining green eyes watching me from a bush however didn't agree...

7. And as for the weekend, tonight I'm looking forward to
the Elementary school's Halloween
carnival
, tomorrow my plans include
goofing off and going trick or treating with the kids
and Sunday, I want to
catch up on cleaning and sneaking the kids candy

!